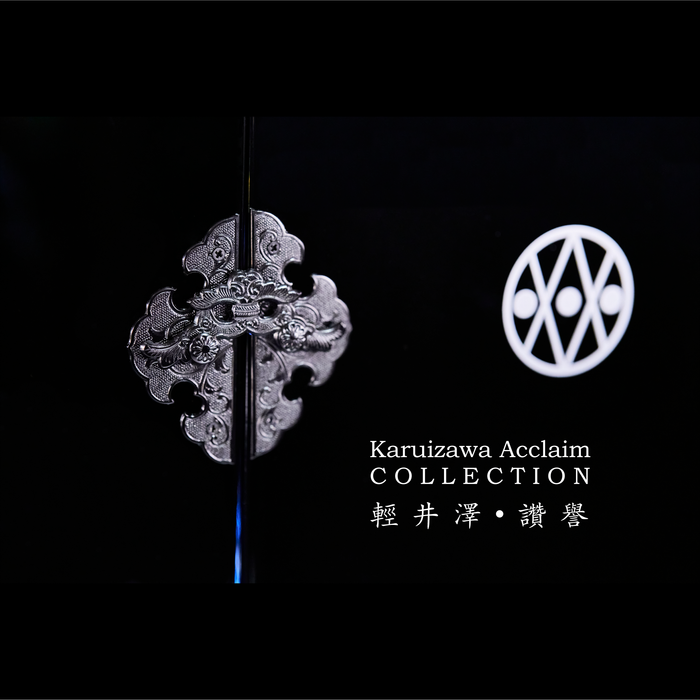 Karuizawa - Acclaim 輕井澤 讚譽
Acclaim – The Karuizawa Whisky Stage
Blurring The Line Between Whisky & Art

Celebrating the code of the Samurai and Japan's martial history by depicting courage, honor and discipline — this collection is inspired by the greatest values in Japanese culture. This collection showcases the very essence of Japanese culture by combining fine art, beautiful craftsmanship and rare whisky to create a collection that is unlike anything that has come before.

Distillery: Karuizawa
Year Distilled: 1999 – 2000
Alcohol By Volume: 60.8%, 61.1%, 61.4%
Size: 70cl (3 bottles)

Introducing Acclaim The Karuizawa Whisky Stage
Celebrating the code of the Samurai and Japan's martial history by depicting courage, honor and discipline — this collection is inspired by the greatest values in Japanese culture. Working with prominent Karuizawa based artist, David Stanley Hewett, and a number of expert craftspeople from across Japan, this outstanding and exceedingly rare Karuizawa Single Malt Whisky is presented like nothing that has come before, or will ever be seen again.
Housed inside a Wajima Lacquerware cabinet, featuring 24 carat gold leaf layering, and world class bottle art from David Hewett, this limited edition collection pairs the most sought after whisky and art from Japan and does so in real style, resulting in a once in a lifetime collectible.


The Karuizawa Legacy Lives On
In order to breathe life into such an iconic collection, it was imperative to select a whisky that would turn heads. The spirit needed to showcase the superb craftsmanship of Japanese distillers that have put the industry on the map. In the mind of any enthusiast this left only one choice, a single malt from the legendary Karuizawa Distillery.
Karuizawa was a distillery that was before it's time, producing single malt whisky before people had acquired a taste for the liquid that is now adored by fans around the globe. With the original distillery being shut down in 2011, the limited amount of liquid that remains from those original stills has become highly sought after by collectors and aficionados in every corner of the world.
Experience The Gold Standard
When it comes to whisky, this is one of the best of all time. Karuizawa is a whisky synonymous with quality, luxury and rarity. It's considered the gold standard of Japanese Whisky and the whisky in these bottles is some of the best the distillery has ever produced. For this collection, a 1999-2000 vintage Karuizawa Single Malt Whisky was selected. This is some of the rarest liquid on the planet today and extremely desirable thanks to its exceptional quality and limited availability.
The Master Distillers at Karuizawa were experts at creating rich, full-bodied liquid that exhibits a unique range of tasting notes not often found in other whiskies. Their work with sherry wood is widely regarded as masterful and many distilleries around the world look to Karuizawa as a benchmark for how to mature whisky using ex-sherry butts.


Artist Introduction – David Stanley Hewett
Karuizawa based artist, David Stanley Hewett is one of the most famous foreign-artists working in Japan today. Hewett has been in Japan for 30 years and has trained under Japanese master potters, screen makers and painters. Hewett is most well-known for his paintings using gold leaf.

Hewett has painted the ceilings of ancient Shinto Shrines and completed works for the US embassy in Tokyo, The Ritz Carlton, the Peninsula Hotel, The Okura Hotel and many public and private collections around the world.

In 2018, Hewett's painting: 'Majime' was given by the First Lady of Japan as a state gift from Japan to the United States to the visiting First Lady of the United States and the painting is now housed in the US National Archives in Washington.

Hewett began Karate when he was 14 and is the recipient of the Honor Graduate Medal from the United States Marines. Hewett's experience as a Marine and his study of Japanese History at Hokkaido University inspired his famous series of paintings known as the 'Bushido Series'. This series honors the code of Japanese Samurai and is focused on themes of courage, honor and discipline.
Sale
Sale
Original price
$392,000.00
-
Original price
$392,000.00
$392,000.00
-
$392,000.00
Current price
$392,000.00