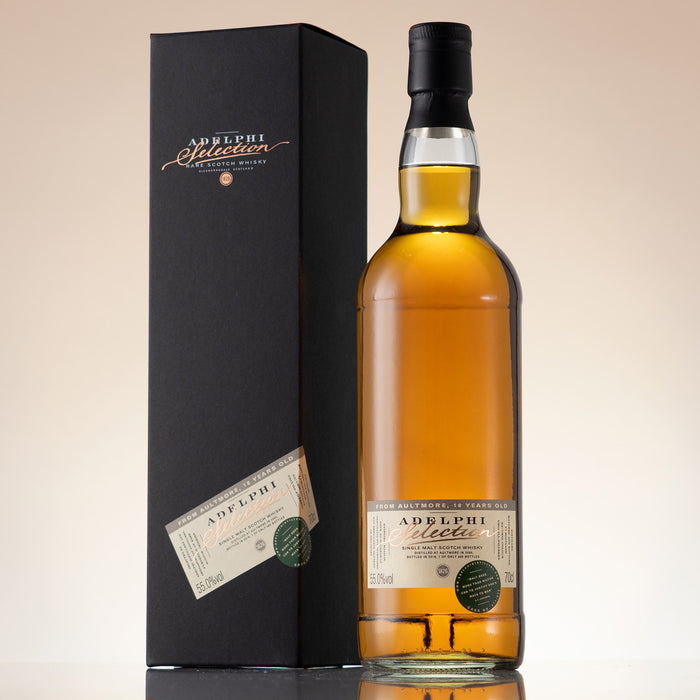 Adelphi Selection - Aultmore 18y, 2000, 55% , 480b
An 18yo single cask expression of from the Aultmore distillery, in SpeysideDistilled in 2000 - 480 Bottles (from Casks 571 & 573).  This expression has been bottled from refilled sherry casks at cask strength.

Review by Adelphi – Aultmore 18 Year Old | Malt - Whisky Reviews (malt-review.com)

"On the nose: intensely honeyed and floral. Lots of vanilla, naturally, but it's gentler, lighter, somewhat citrusy and fresher. Tangerines. Dried apricots. Stewed apples. Something slightly herbal in the distance, sage leaves, thyme perhaps, with a lovely meaty green olive note. Linseed oil on cricket bats. With time it becomes the headiest golden sponge cake, a vibrant oven-baked aromatic sweetness.

In the mouth: lovely density to this, and a curious meaty note – a hint of umami, olives and sundried tomatoes, but just a flash before it becomes sweeter. Golden syrup, vanilla, baked pears. Touch of cinnamon. Blood oranges, a zing of pink grapefruit. Roasted herbs. Aubergine (or eggplant, if you're a step below on the evolutionary ladder). Toasted almonds. It feels nicely autumnal. These are all familiar flavours, yet there's a harmony here, not to mention a great heft to the spirit. Sparks of lime juice on an oily finish.

Conclusions
I find Aultmore a peculiar distillery. Jason, who deducts 2 points for any whisky outside of Scotland, isn't too bothered by it. I suppose it flies under many people's radar. I've always found its whiskies to be quite intriguing, and this does nothing to change my mind that it really is worth investigating – only if it's gone in a good cask. Perhaps, of course, it is helped along that this particular cask had been selected by the consistently reliable people Adelphi.

Score: 8/10"

Sale
Sale
Original price
$2,450.00
-
Original price
$2,450.00